Profile - name, picture, email etc.
Wikipedia references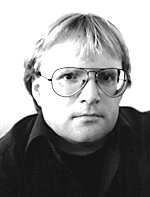 Simon Laub
Email: Simon.Laub@FILTER.mail.tele.dk
(remove filter and dot from address before use)
Wikipedia is one of the best things to hit the internet in recent years.
The encyclopedia is indeed very comprehensive
- and I have been surprised to find links even to my own past there -
Check it out:
Wikipedia
or
Wikipedia DK
Concerning SABAE
Kubologisk SportsForening
Asimovs Psychohistory
- - -
Proceed to index at:
Misc (Profile collage)
or
Homepage Index
Original page design - April 2005.
Revised: November 2006.
More Info:
altavista
deja
www.simonlaub.net